Used test bench for Common Rail pumps - HARTRIDGE CRPpC - inc tooling
450000.00
-50%
225000.00
450000.00
-50%
225000.00
Lowest price in the last 30 days:
The loyalty program is only available for logged in customers.
Shipping within

24 hours

Shipping price

The Lack Of

The Availability Of

Low stock

1

opak
Description

Reviews & ratings (0)
STÓŁ PROBIERCZY HARTRIDGE CRP-PC
Cena obejmuje zakup samego stołu bez wyposażenia.
Cechy urządzenia:
Stanowisko testowe CRP-PC do pomp Common Rail pracujące w pełni zautomatyzowanym trybie
Przezroczysta szyba ochronna z poliwęglanu wraz z blokadą drzwi bezpieczeństwa
Możliwość testowania manualnego lub w pełni automatycznego
Możliwość tworzenia nowych sekwencji testów pozwalające na standaryzację przeprowadzanych testów
Mocowanie pompy wspólne z AVM2-PC
Wyniki testów są skorelowane z AVM2-PC
Punkt wejścia na rynek testowania pomp CR
Pomiar przy użyciu przepływomierzy
Możemy zaproponować w/w stanowisko w wersji all makes ( Delphi Technologies, VDO Continental, Denso, Bosch) lub pod autoryzację Delphi Technologies i VDO (Continental)
W zależności od wybranego wyposażenia cena zestawu będzie ustalona indywidualnie.
Dane techniczne:
Zasilanie: 3-fazowe 380-480V ± 6%, 50A lub 1-fazowe 230V 50/60 Hz, 5A
Wymagane podłączenie do układu sprężonego powietrza i chłodzenia
Silnik elektryczny na prąd zmienny z maksymalną prędkością obrotową 6500 obr/min (22kW - 30 KM)
Możliwość generowania ciśnienia do 2500 bar
Dwa elektroniczne przepływomierze wydatku/przelewy
Wymiary urządzenia 200 x 145-180 (rozłożone ramię klawiatury) x 145 cm
Waga: 800kg (ze skrzynią ładunkową 950 kg)
Układ chłodzenia powinien być zasilany w zimną wodę (10-15°C) oraz natężeniu przepływu 10L/min. Wymagane ciśnienie (2.5 - 7 bar)
Układ sprężonego ciśnienia - wymagane minimalne ciśnienie 5.5 bar, zużycie powietrza - 1L/min
Minimalna temperatura otoczenia - 15°C
Przy zakupie oferujemy:
Przy zakupie stołu z wyposażeniem oferujemy dodatkowo:
Szkolenie z obsługi działania
Szkolenie z naprawy i testowania pomp Delphi i VDO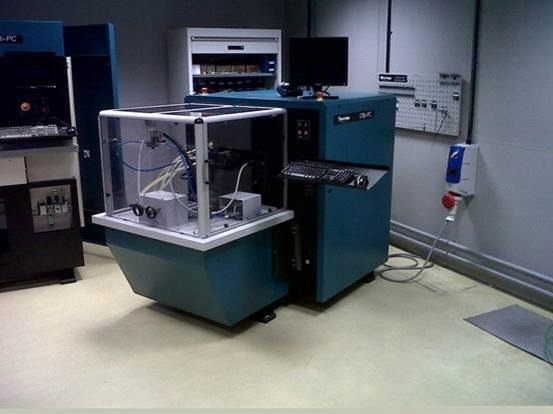 There is currently no comments or ratings for this product.