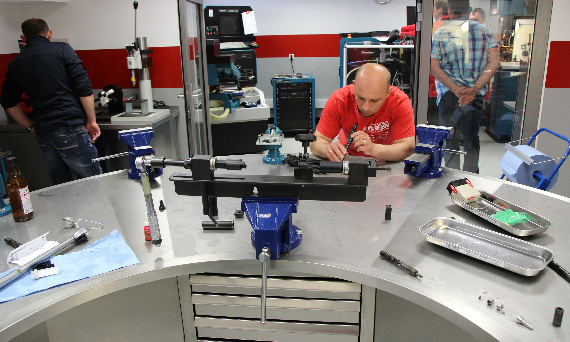 Training services provided by JR Motors

The saying "knowledge is power" has never been truer. The constant increase in the level of sophistication of the technology used in the automotive industry absolutely requires one to stay abreast of the latest solutions. JR Motors makes its technological knowledge, accumulated over 30 years of cooperation, available to anyone at any time, anywhere.
Training courses are designed to help you stay on top of the latest service and repair trends. Our company offers various training courses, including advanced courses:
- DELPHI TECHNOLOGIES injection system repair training (CR / EUI / EUP / SMART / DP200 / DP210 / DP310)
- training on repairing injection systems STANADYNE (DB / DE)
- training on repairing CONTINENTAL (CR) injection systems
- training on diagnostics using DS150 tester
- training on operation and maintenance of Hartridge equipment
Get ready for repair through JR Motors workshop
Equipment and test equipment manufacturing technology is constantly evolving. Equipment manufacturer Hartridge is advancing this technology for both current and future equipment production.
Newer equipment that is currently being produced by the manufacturer requires specialized warranty and post-warranty protection to service and inspect it.
Our technical service was created to enable you to work with an expert. With JR Motors !
As a partner of the rapidly growing network of independent workshops, you have access to products and services at the level specified by the manufacturer Hartridge, including: technical support, parts and equipment.
Electronics have revolutionized not only the operation of equipment, but also its service and repair.
Since the number of circuits and electronic components installed in measuring instruments is growing all the time, we can't stop at its exclusive operation. Visual inspection and practical knowledge of how things work are not enough. JR Motors technical service personnel are able to reach deep into the various systems, the list of which is very long, perform specialized calibration and test bench inspection. Every workshop has access to an authorized, qualified and specialized technical service. Could there be anything better ?
A network of workshops worth choosing
The development of diesel engine technology in recent years has led to an increased demand for advanced test solutions and repair procedures. Running the JR Motors service network , we have invested in equipment and expertise that allow us to diagnose and repair even more advanced and modern fuel injection systems, offering:
1. State-of-the-art diagnostic equipment and instruments;
2. Manufacturer-level technical information;
3. Highly specialized and trained personnel;
4. Standards in accordance with the requirements of the original parts manufacturer;
5. OE replacement parts;
6. Local replacement programs.